Best Ski Resorts for Kids –
Living in Northern Nevada often means our families enjoy the winter ski season.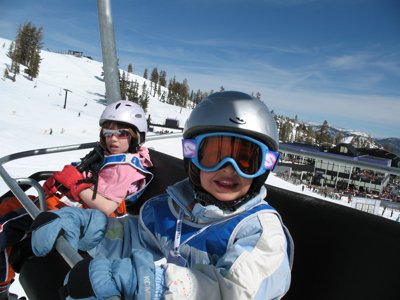 Getting our youth involved in winter activities is part of what draws many young families to Reno, Tahoe, Carson City and the Carson Valley. We live in an area rich with possibilities for family skiing at all levels.
Here is a quick list of the best family ski resorts near and around Northern Nevada that are great to take the kids. We list these in no particular order as we find that it is a matter of preference and age that often determines a local's favorite location to take the kids.
Diamond Peak – Known for its family-friendly atmosphere, this Lake Tahoe ski resort offers a great learning environment for beginners, as well as challenging terrains and trails for expert riders. Since every run funnels into the main base area, families can feel at ease on this mountain. With 655 ski-able acres and more than 30 runs, this resort offers breathtaking views of Lake Tahoe, less crowded slopes for riders and reasonably priced lift tickets.
Heavenly Ski Resort- This large ski resort with lots of intermediate runs makes it possible for families to be able to ski together happily for a large part of the day.  In addition, families with young children who are still learning to ski have lots of options for full day or half day ski school programs at Heavenly's first class ski school.  But, that's not all. Heavenly Village and Adventure Peak offer lots of non-skiing activities from an extreme tubing hill, snow shoeing, ice-skating and snowmobiling, to a relaxing scenic gondola ride with epic views of Lake Tahoe.
Mt. Rose Ski Resort – Mt. Rose is a small, homey and very family-friendly resort that delivers an abundance of beautifully groomed terrain for beginners. Mt. Rose offers both a "Rose Buds" program for kids, ages 4 to 10 years, and "Team Falcons," for kids 4 to 18 years old, who want a more challenging learning and competing experience. Definitely sign up for the outstanding and inexpensive family program called "Runs & Roses."
Squaw Valley -Ski School is fully equipped to accommodate kids ages 3 and up at all levels of skiing, and the facilities have fun play areas.  The cable car ride up to High Camp is a big hit with families while High Camp offers stunning views of Squaw Valley, ice-skating, hot tubs and a heated pool.  There is lots of space to build snow men for little ones who aren't ready to hit the slopes up at high camp, while down at the base of the Cable Car, you'll find a climbing wall and other amusements.
Alpine Meadows -Alpine Meadows Ski Resort is a smaller ski facility on the North Shore of Lake Tahoe.  However, it runs an excellent Ski School Program for children. Affordable prices for both half and full day programs.  Alpine is also less crowded, so it is likely that they can accommodate you even if you don't have a previous reservation.  Alpine Meadows offers ski school for children as young as 3 years old.
Soda Springs -If you are bent on teaching your child to ski yourself, you might consider a visit to Soda Springs.  Their prices are unbeatable, and there is an area called "Planet Kids" that has small bunny slopes equipped with a magic carpet where parents can work on "pizzas" and "french fries" with their wee ones.
Northstar– another mountain in the Lake Tahoe area that leaves families in complete awe after every visit. Families will find 3,170 skiable acres available to them upon arrival, including 97 trails, 20 lifts, and a vertical drop of a whopping 2,280 feet. There are four on-mountain dining options for them to choose from so they don't have to necessarily unbuckle their boots. Kids ages 2 to 6 can also enjoy the Minors' Camp Child Care if they're not quite ready to start skiing just yet or if they are, they can check out one of the mountain's many ski and snowboard school options available, including private and group lessons.
Kirkwood -Kirkwood is sometimes overlooked by families because the marketing tends to focus on Kirkwood's appeal to the black diamond crowd, but families fare very well at Kirkwood. Kirkwood offers a kids' ski program for ages 3 to 12 that includes rentals, lift tickets, lunch and a California-licensed Mini Mountain daycare (for kids 2 to 6 years). Fifteen percent of the mountain is for beginners, 50 percent is intermediate, and 35 percent is black diamond. There are plenty of varying runs for everyone's abilities.
Sierra- At – Tahoe– Lending itself naturally to families, Sierra-at-Tahoe offers 12 chairlifts and 2,000 acres of beauty with a view of Lake Tahoe at the top. This family-friendly ski resort is all about value. Kids (3 to 12 years) can learn to ski or snowboard in the Wild Mountain Children Ski and Snowboard School with packages that include: equipment rentals, half-day and all-day lessons, lift tickets and even a kid-friendly lunch. Look for 3- or 10-day packages. (If kids get tired or whiny, they can hang out in the bounce house, eat snacks and do arts and crafts while their parents ski.)
From a location stand point and easy access to these resorts here are a couple of groupings that might help.
From Reno: Mt. Rose Ski resort is closest if you follow that route then easy access to Diamond Peak, NorthStar and Squaw Valley can be had for most all families.
From Carson City and The Carson Valley: The closest Ski Resort is Heavenly Mountain Resort. Follow HWY 50 across to Sierra-at-Tahoe or travel down HWY 88 to Kirkwood would be the next closest. Diamond Peak is also easily accessed around North Tahoe.