Carson City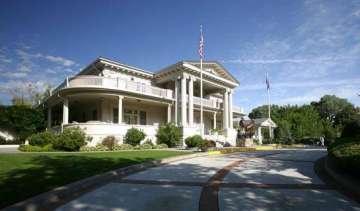 Carson City is a historic city home to over 55,000 residents, located 30 miles south of Reno. It is the state capital of Nevada. Interestingly, the city's limits extend west across the California/Nevada state line to the middle of Lake Tahoe! Carson City is quickly becoming a bustling political, medical, and manufacturing hub, and is home to many industry leaders. Carson City has a strong Chamber of Commerce and small business community, and its housing communities provide variety and safety.
The Real Estate market in Carson City is diverse, and a wide range of home buyers will be able to find the home to fulfill all of their needs. To help you sort through the options, call Carson City RE/MAX agent Laura Moline at 775-691-1126. She is an experienced pro and will be able to streamline the process of finding the right home for you.
History
Carson City prides itself on preserving and celebrating its history, and is touted as the "Best Western Historical Site" by True West magazine. The explorer John C. Fremont first discovered the area, and named the river that flows through Eagle Valley after his scout, Kit Carson. The town was later named Carson City and was a primary hub of the Virginia and Truckee Railroad in the late 1800s. Carson City was always a rancher's town, visited by Mark Twain and given a pop culture stake by the frequent mentions in the TV western "Bonanza" (set in nearby Virginia City).
Parks and Recreation
Carson City is an outdoors person's dream, with trails for horseback riding, hiking, and biking, hunting and fishing areas, and cross-country and downhill skiing in the winter. Parks include Mills Park, Fuji Park, Long Ranch Park, Ross Gold Park, and Carson River Park. Head over to the Silver Oak or Eagle Valley Golf Course and play a few holes at two of the most beautiful courses in the area. For more information on Parks programs click here:
High Schools
 The Carson High Senators – Team Colors: Blue, White, and Silver  – One of the largest and highest-ranked high schools in Northern Nevada,  Carson

High School features very competitive athletic programs and a state-of-the-art technology center to help its students achieve their greatest potential
Silver State Charter School & Performing Arts Program – Free Public School – Soaring with Technology.- This hybrid on- campus and on-line school uses the unique model of distance education course work combined with attendance at the Carson City campus on select days.
Carson City School district information can be found here:
Carson City Homes for Sale