Genoa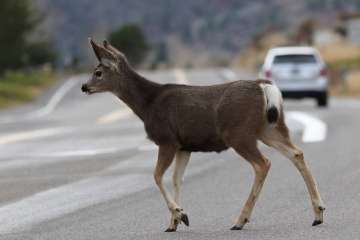 Located in the foothills of the Sierra Nevada Mountains, Genoa is a storied town of the American West. It's still known today for its Old West charm, but has all of the features of a modern community. It lies within the Carson River valley, 42 miles from Reno, with a population of less than 1,000.
While people often come to Genoa to see one of the last living towns of the Old West, many choose to stay for the nature. At an elevation of approximately 4,700 feet, visitors and residents can enjoy stunning mountain views. Mule deer, squirrels, foxes, raccoons, skunks, snakes (venomous and non-venomous), black bears, and several species of birds including quail, mountain blue birds, jays, magpies, crows, Canada Geese, ducks, herons, eagles, hawks, woodpeckers, gulls, sparrows and Barn Swallows are just some of the wildlife that Genoans see on a daily basis.
For those who are searching for Genoa, NV real estate, RE/MAX agent Laura Moline is an experienced pro who knows Carson Valley. She can help guide you through the process and make it easier to locate the right home for your lifestyle and budget. Call her today at 775-691-1126. There are many great Genoa homes for sale!
---
Community links and Info
Carson Valley Arts Council -In partnership with businesses, schools, arts organizations and the community, CVAC actively works to bring artists, a diversity of art forms and audiences together in our rural community. From concert series, youth programming, ArtBar, shared office space and meeting space for nonprofit organizations to a visual arts gallery, CVAC's support of a breadth of public programs provides residents a rich quality of life which contributes to the health and diversity of Nevada's economy and workforce, increasing tourism, strengthening our community and fostering education through the arts.
Animal Care Services : Issuing dog licenses as required by law, Impounding stray dogs, Enforcing animal control ordinances, Finding good homes for shelter dogs and cats, Investigation of animal bites, cruelty and nuisance complaints
A.V.I.D – Active Volunteers of Douglas County – Douglas County encourages volunteerism within the organization and in the community. The County participates in "Active Volunteers in Douglas" (AVID), a group formed to promote, maintain and support volunteerism in all county communities and to provide avenues for recognition and encouragement of volunteers.
UNR Cooperative Extension – University of Nevada Cooperative Extension is the college that puts university research to work—in your home, workplace or community. We're in every corner of Nevada, helping you learn parenting skills, conserve water in your garden and thrive economically.
---
Genoa Homes for Sale
[optima_express_toppicks id=212571 sortBy=pd header=false includeMap=true]