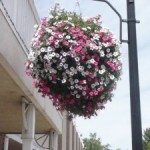 GARDNERVILLE, Nev. — In the blink of an eye we watched summer flowers fade into autumn leaves
and suddenly it's winter in our valley.
Now the winter holidays are a memory and Valentine's Day is fast approaching. It's time to think about that special someone in your life and "give" a Basket of Flowers to express how much you care. The basket you sponsor will be hung on Main Street at the start of summer as part of the Main Street Gardnerville Flower Committee's continuous efforts to beautify downtown Gardnerville.