Carson Valley to Hold Annual Hike For Health Day At The Nature
Conservancy's River Fork Ranch on Genoa Lane. 8:00 am to 1:30 pm, Saturday, June 6, 2015.
Outdoor adventures and fun for all ages!!! The Carson Valley Trail Association invites the public to join them on June 6th for a free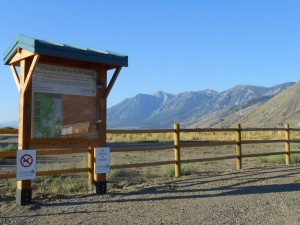 outdoor adventure day in Genoa, NV. Get out and enjoy the sunshine with the locals, while taking in breathtaking views of the Sierra Nevada mountains!
The Annual Hike for Health Day has become a favorite local activity, helping families stay active in the Carson Valley. The event also presents the perfect opportunity to familiarize yourself with the natural beauty that makes Northern Nevada such a rewarding place to live.
Schedule of events:
8:00 am to 9:30 am
 Bird watching hike led by Jim Woods from Birding Under Nevada Skies.
Biking 101 with Denis Coyne from Bike Habitat.
Geocaching 101 with CVTA board member Deby O'Gorman.
9:30 am to 11:00 am
River Preservation—Vegetation, Flowers and Monarch Habitats Hike with CVTA
board member Norah Gastelum.
Photography with Eddie Sanderson, from 10:30 to 11:00.
Washoe Tribe history presentation with Lynda Shoshone and Jim Irwin.
11:00 am to 12:30 pm
Compass basics workshop with CVTA board member Jeremy Vlcan, starting at Noon, and ending at 1:30 pm. This event is followed by a BBQ lunch!
CVTA members may attend all events free of charge, while donations are requested from non-members. Donations begin at $5 for adults and $3 for children.
All participants must register on-site. Parent or guardian signature required for participants age 17 and under.
Please arrive at least 10 minutes prior to any activity you plan to participate in. Bring water, hat and sunscreen. Dogs are not allowed on the trails at River Fork Ranch. Any further questions may be answered by sending an email to info@carsonvalleytrails.org
DIRECTIONS
River Fork Ranch is located at 381 Genoa Lane, Minden, NV 89423, near the historic town of Genoa in the Carson Valley.
From Carson City, drive south on US 395 for 8.7 miles. Watch for the "Junction SR 20 / Genoa Lane ¼ mile" and "Genoa National Historic District" signs. Drive west on SR 206 / Genoa Lane for 2.4 miles. The trailhead parking area entrance is on the south side of the road just west of the Carson River.
Related Images: