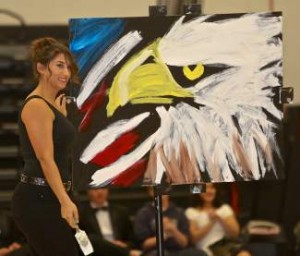 Did you read the Record Courier this week? The photo on the cover is amazing! Alexxaz Torres was just one of many contestants at the Douglas High School Talent Show. She painted a bald eagle upside-down and flipped it over when she was finished.
The winner of the talent show was a stand-up comedian named Willard Franklin.
Nevada students are truly talented in many different ways.
Want to read more about the talent show?  Click here:  Talent
Related Images: