The Carson Valley has a rich history in AG and ranch lifestyle. When people buy a home and move to the Carson
Valley they often are not initially aware of the historic features and family history of our local ranches that are still being lived out and worked on a daily basis.
One of our favorite ranches to share with new people in our community is the Dangberg Home & Ranch. Located on HWY 88 just past the community swim center and Douglas High School as you leave Minden, The Dangberg Home & Ranch from the highway looks like a working traditional ranch.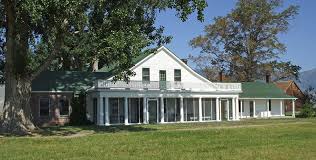 One of the family must do's in our community as you start to learn about the Carson Valley history is to take a tour of this historic site.
Guided tours take visitors through the main level of the Dangberg residence, where they hear the family's private and public history and learn how it helped shape the community we know today. The artifact displays connect the stories with the family members in ways both comedic and heart-breaking. Reservations are required and the tours are available all year.
Reservations: 775-783-9417.  Reservations are required.
Fee: $8 for adults 17 and older, free for children 16 and younger.
In the summer months the Dangsberg Home & Ranch is home to several community music events and special receptions.
This is a walking tour that lasts about 75 minutes, but chairs are available when required. Small children will not enjoy the tour.
Contact : 775-783-9417
https://www.dangberghomeranch.org/