GE Family Concert Series is a Must See Event in the Carson Valley
Minden, NV – GE and the town of Minden have finalized this year's GE Family Concert
Series for Summer 2015.
The GE Family Concert Series has become one of the Carson Valley residents's favorite summer activities. Put on by the town of Minden and sponsored by GE, concert series is held in beautiful Minden Park, located at the heart of downtown Minden. Expect to find the vast green lawns of the park filled with folding chairs and picnic blankets, while locals barbecue. Residents from Minden, Gardnerville, and the surrounding areas use the concert as an opportunity to catch up with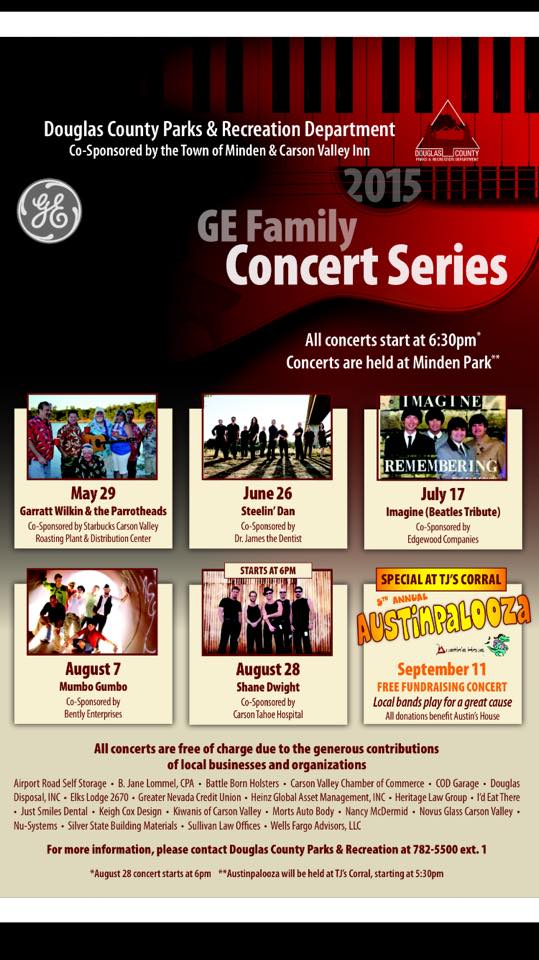 neighbors, and to get to know other community members, while eating, drinking, and listening to fantastic live music. Small children are welcome, and you will inevitably see kids of all ages playing in the grass.
The best part? Thanks to participation of numerous local vendors, all concerts are FREE!
This year's summer series includes performances from: 
Garratt Wilkin & the Parrotheads: May 29th – Garratt and his band have been billed as the #1 Jimmy Buffett tribute band in the nation.
Steelin' Dan:  June 26th –Steelin's Dan was awarded the 2015 Sacramento News & Review SAMMIE in the category of Best Tribute Band.
Imagine (Beatles Tribute Band):  July 17th – Too young to have seen the Beatles live in the 60's? This is the next best thing!
Mumbo Gumbo: August 7th – Mumbo Gumbo is a septet from Sacramento that has been playing together for 23 years. A local favorite, Mumbo Gumbo blends several genres, ranging from rock, soul, afropop, lush balladry, zydeco, and country. Come prepared to dance!
Shane Dwight : August 28th – California by way of Nashville, guitarslinger Shane Dwight plays rocked-up blues, and fans of Stevie Ray Vaughn and George Thorogood will find much to love. He's also adept at Dickie Betts/Allman Brothers southern rock jams, Stonesy blues rockers, and some Pete Yorn inspired chugging roots rock as well, says PASTE Magazine
5th annual Austinpalooza at TJ's Corral : September 11th
If you are traveling to the Carson Valley, are in town this summer looking at homes, or
if you are a long time resident, you should spend a Friday evenings in the park in order
to get a feel for the wonderful small town atmosphere of the Carson Valley.