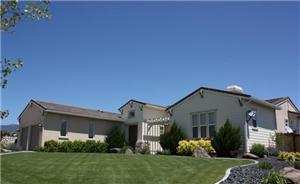 If you live in the Carson Valley for any length of time you will understand that there really is not a bad area  in this rural community to live.
The views are spectacular from just about anywhere. The School system is so in touch and similar from one to another that it really just becomes a choice that is based on personal values.
When people decide to buy in The Carson Valley, I find that most have a specific style of home they are looking for , and they have wandered into a neighborhood they found appealing and want to learn more about that area.
That being said their are several local terms used for communities around the Carson Valley that may not show up on a Google search or real estate search site.
Here is a list of Popular Neighborhood communities in the Carson Valley
Sunridge – Located on Far North edge of County near Carson City. This bedroom community features security entrance, local Sunridge Golf community setting and Eastern Views of the Pine Nut Mountains and Carson River.
Saratoga Springs – Located off Stephanie this larger community features fantastic lot sizes, great views or The Sierra and the Pine Nut Mountains, walking paths for miles, Wild life, Playground and park.
Skyline – Northern Edge of both Johnson Lane and Stephanie, Skylines Hill Top Placement gives its residents a great view of the valley floor and the Sierra Mountains. Nestled into the base of the pine nut range, easy access to BLM land for recreation
Wild Horse – Place between Johnson Lane and Stephanie this neighborhood features great community feel, nice views of the Sierra, Community parks
East Valley – Larger Lots, Many Horse Friendly Lots, Stretched the entire length of the Valley on the East side Most homes are newer generation homes and feature custom landscaping, fencing and incredible view and recreational opportunities.
Winhaven – Located in the Heart of Minden, next to Minden Elementary, This neighbor hood features great pond and park area, close proximity to everything in town, Walking paths, Walking distance to downtown Minden.
Chichester– This bedroom community located in Heart of Gardnerville has a range of home sizes and styles. Close to City Parks, shopping & schools
Fish Springs – If you like Rural living and variety of lifestyle, with close proximity to recreation, Fish Springs area will catch your eye. Filled with both long term residence and newer homes, Fish springs provides living in the far South Eastern Side of the valley.
Foothill Road – Is home to some of the valley's most custom homes. Nestled along the ridge of the Sierra on the West side of the Carson Valley, Foothill runs from Carson City to the north the California Border on the South. Several Community Trail Heads for hiking are along this road. Close Proximity to the Sierra Mountain Range provides this area with a unique climate compared to the rest of the valley. Lots & Homes along Foothill are all pretty well custom designed or are older homestead property and Ranch styles.
The Ranchos – The Ranchos in Gardnerville could be to some considered another town in the Carson Valley. By population it is the largest community of homes in the Carson Valley. The Ranchos house two elementary schools and Pa Wa Lu middle School. This community has homes of all makes, models. Their own unique shopping area, Baseball fields, parks, Access to BLM land, Senior living communities, apartments and ranches.
Country Club – The old Country Club area is located on the South of Gardnerville and is nestled in to the Carson River area surrounded by teh Carson Valley Country Club Golf course.
Rocky Terrace – This community is located off HWY 88 in the south Eastern side of the Valley. A newer community near between The Rancho and the south side of the Foothill area. This community was built next to several old homestead ranches. It provided excellent views of The Sierra, easy access to Gardnerville and Minden. Homes are good size and Lots do not require large maintenance plans. Most homes feature nice custom landscapes and very clean neighborhood feel.