Featured Carson Valley Community – Skyline Ranch Estates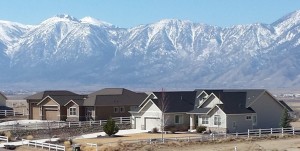 The community of Skyline Ranch was built on an elevated part of the Eastern Valley; it is located adjacent to BLM land at the top of the Johnson Lane area in Minden, NV.  This community offers 1+ acre home sites, spacious estate homes, great views, and well-manicured yards.
Being located next to BLM land and having a magnificent view of the High Sierras are two huge factors for residents looking in this community for their next home. In the winter the snow topped peaks of the Sierras add spectacular views to the Nevada sky. The Pinenut Mountains, treasured by many in the area, are located just out your back door. You have instant access to the rugged terrain terrain perfect for hiking, horseback riding or off-roading.  Residents of the Skyline Ranch area are provided a recreational lifestyle on a daily basis.
With large lots you can have a natural setting and space from the neighbors, instead of 6′ foot wood privacy fences, Skyline Ranch is highlighted by white panel fences that are more of a property accent than a fence to contain anything. Landscapes are a mix of natural sage brush, traditional grass and flower landscapes.
The Skyline Ranch area is zoned for Pinon Hills Elementary; located at the base of the hill off Stephanie Blvd. One of the newest schools in The Carson Valley! Pinon Hills Elementary has an excellent reputation of quality teachers and education. Junior High Students currently ride the bus to Carson Valley Middle School. The High School Students have great options too! With Douglas High School (public), Sierra Lutheran (private) or the new Aspire Academy High School.
Just below the Skyline Ranch Estates across from the Pinon Hills Elementary is a community park with basketball courts, baseball fields & covered picnic areas. Also located here is the East Valley Volunteer Fire Station which also serves as the local voting center for this region.
[optima_express_toppicks id=225266 sortBy=pd header=false includeMap=true]
Related Images: